First Year Aggie Connections -

Transition Courses
First Year Aggie Connections (FYAC) are a great way to meet new transfer and reentry students while learning how the university works. Through the FYAC program, the TRC offers two transition courses that introduce students to campus resources and provides the opportunity to connect with other students in a small cohort experience. Learn more about other FYAC connections that you can join.
You Are Not Alone: A Supportive Community for Students with Children and Reentry Students
2-unit pass/no pass transition course
It may feel like you're the only older student or student parent in your classes, but you are not alone – there are over 1,500 students with children and reentry students at UC Davis. This seminar is designed to apply your strengths and wealth of past experience to success at the university, and to form connections with other students.
Don't Be THAT Transfer Student
2-unit pass/no pass transition course
This course is for students who want to maximize their time while at UC Davis, develop success strategies to achieve educational and career goals, and avoid being THAT transfer student who spends valuable time letting life happen to them instead of owning their education and future. Through lecture, discussion, and group activities, students will develop skills to help ease the transition to UC Davis.
Fall Welcome Events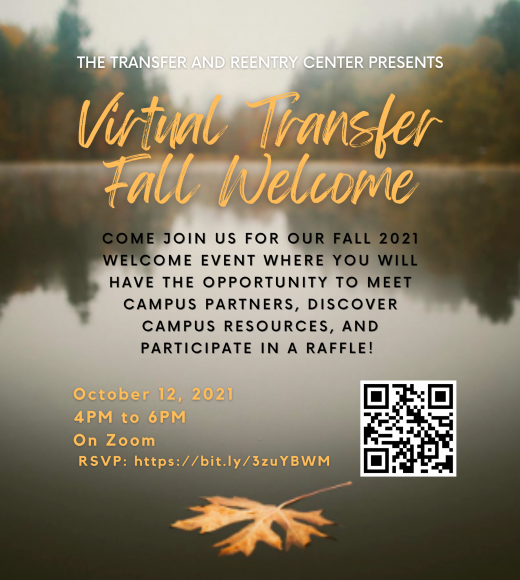 Virtual Transfer Fall Welcome
Hit the ground running by attending our Virtual Transfer Fall Welcome! This event consists of guest speakers, a meet and greet with our Peer Advisers who work in the Transfer Reentry Center, meet with campus partners, discover campus resources, and participate in a raffle! This event is invaluable to new transfer and reentry students as it brings campus resources to a central location to meet with students and introduce them to campus services.
Date: Tuesday, October 12, 2021
Time: 4:00pm - 6:00pm
Location: Zoom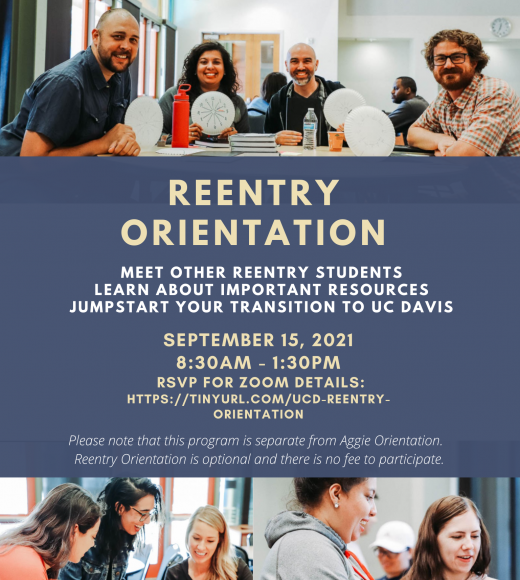 Reentry Orientation
Reentry Orientation occurs prior to the beginning of fall quarter and is specifically tailored to the questions, concerns and experiences that reentry students have. This specialized orientation presents a realistic overview of the reentry experience at UC Davis, providing the vital information and resources students need as they begin their academic career. Topics typically covered include: the demands of the Research University; the registration process and unit load; applying transferable skills; and how to prepare for future career or educational career goals.
Date: Wednesday, September 15, 2021
Time: 8:30am - 1:30pm
Location: Zoom