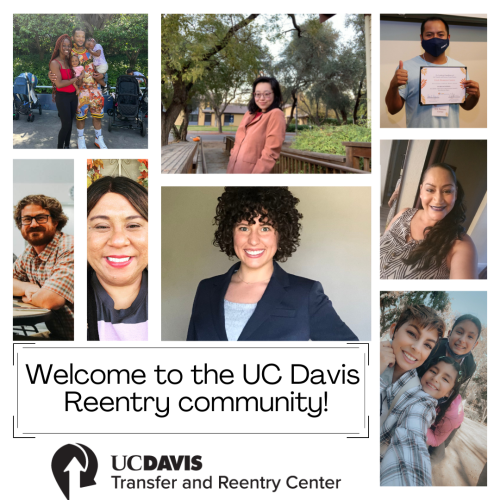 Who are reentry students?
Reentry students are students who identify with one more more of the below groups:
Students who are 25 and older
Students who have a spouse/partner
Student parents
Students serving as caregivers for adult family members
Students who have taken a break from their education
At UC Davis there are approximately 1,500 undergraduate students ages 25 and older and around 300 student parents.
What programs are offered for reentry students?
Reentry E-Newsletter
To sign up to receive the e-newsletter for reentry students, fill out this online form. Students can also see the archive for the TRC Weekly Brief.
E-newsletter archives:
Reentry Retreat
Saturday, January 21, 2022, 9am-4pm in the Student Community Center Multipurpose Room
Students ages 25ish+, student  parents, and students returning from a break in school are all welcome!
Program includes:
Catered breakfast and lunch
Interactive session on designing a quarter and weekly calendar with Success Coaching and Learning Strategies
Resume writing workshop with the Internship and Career Center
Networking activities
Magic show by the Amasingh Magician
Camp program run by UC Davis Youth Programs for children of retreat attendees ages 6+ (attend the retreat while your children attend the camp!) - students with younger children can request an UrbanSitter gift card to pay for a babysitter
Gift for all retreat attendees
Registration is now open!  Submit the online form to reserve your spot!  Space is limited to 75 students and 15 children.
Older Wiser Learners (OWLs) Student Organization
OWL's is the Older Wiser Learners Club at UC Davis. It is a non-traditional student organization for all non-traditional students (typically, but limited to 25 years of age or older, married, re-entry, caretakers, and/or parents). We are your hub for socializing with like-minded students, networking, and a great place for building community and sharing resources that cater to non-traditional students. To join, log into Aggie Life and click on Join.